rentals | Tuxedos & Suits
Tankersley's is the premier tuxedo and suit rental retailer in Eastern New Mexico & West Texas. We have a wide array of tuxedo and suit styles to match with thousands of colorful accessory combinations! Whatever your vision is, whether it is for a wedding, prom or a formal event, we have the right 'fit for you! Browse our options for rentals below.
Our store is your one-stop for everything you need for your big day or formal event. We offer a large variety of tuxedo and suit styles for rent. We also carry accessories. We have tuxedo shirts, bow and Windsor ties, vests, as well as pocket squares. Additionally, you can rent suspenders and shoes. All you'll need to provide is your own socks! We strive to provide every detail of your outfit, so you can look and feel your best, without breaking the bank.
Ties range in a multitude of colors and styles, as do our vests. We have extensive color options for both, as well as pocket squares. Our rentals range from $110 to $189 per day. We have a size range of 36 regular to 58 long. If you need sizes outside of this range, we can try to accommodate you. We custom tailor the tuxedo to fit you, and our experts who have been in the business for years handle your sizing, too.
Decades of Experience
Additionally, Tankersley's has been in business since 1961 so we have seen styles come and go. We truly are experts in menswear. We've clothed men in rentals for all types of occasions. Come see us for your quinceanera, prom and wedding needs. Uniquely, there is no one in the area that offers the services and rentals that we do. By the same token, our pricing can't be beat on rentals. Together with our years of expertise and knowledge of alterations, we promise to have you looking your best at your event.
The classic, black tuxedo fit that pairs perfectly with color, perfect for a dress match.
Our most popular for weddings, these options have clean lines and a modern vibe.
You can't go wrong with the traditional black tux. It is everything you love about tuxedos.
Feeling stylish? This collection speaks volumes without you having to even say a word.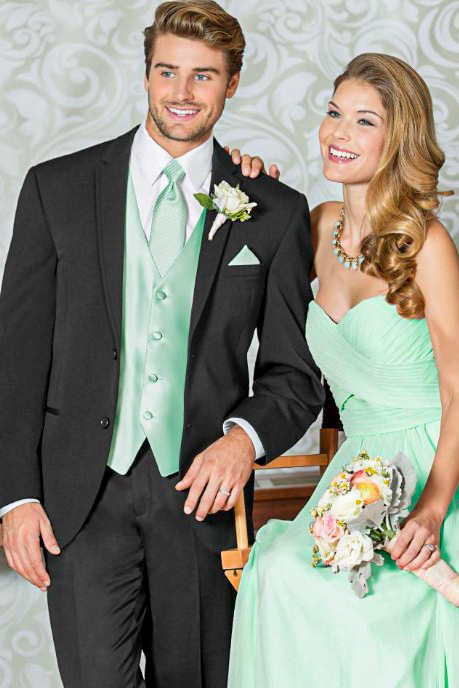 Tankersley's offers a classic black tuxedo with a modern fit called Black Troy. Tailored in 100% worsted wool, this tux features clean lines and a sleek notched lapel in a premium satin. It is a perfect year-round choice for any formal occasion. Couple with matching pleated, flat front, or modern trousers. Then finish with a colored vest and matching tie and pocket square for a clean, classic look. Equally important, you will feel classy.
Slim tuxedos and suits are a contemporary style with a trim and tapered fit. The Ultra Slim Suits and Tuxedos are our most popular items. Details such as notch lapels, elegant  satin lining and matching pants set these apart. Pair one of our slim fits with a matching vest for a 3-piece look. If you want a pop of color, use a colorful patterned tie and pocket square to match. Our options come in a wide range of sizing, too.
Comparatively, this style of suit makes you look leaner and more muscular. So, we recommend it for your wedding day. You equally deserve to look your best on that special day.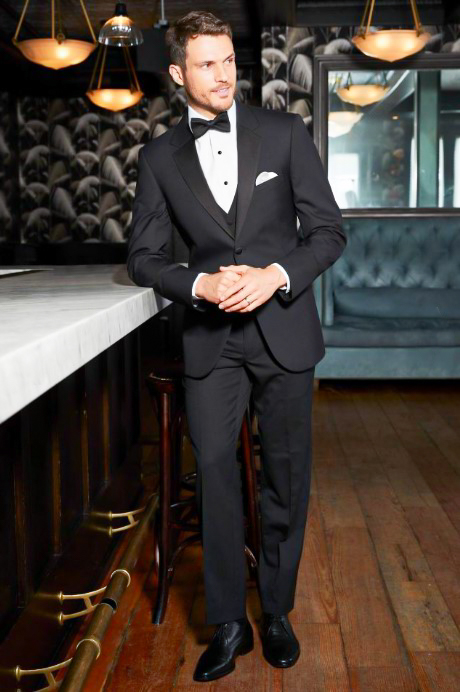 This is our Michael Kors Legacy Tuxedo. It is like no other. It is tailored in a unique performance stretch fabric comprised of CoolMax for comfort and Sorona for flexibility. You'll know you are wearing something special the moment you slip it on. Our traditional tux features a satin notch lapel and satin double besom pockets. Couple with a matching pair of slim pants with no stripe. Its ultra slim styling will fit all body types including big and tall sizes. Again, we guarantee you'll look your best!
We have two excellent options in our patterned collection.
Expect to catch attention in a Paisley Aries Tuxedo (pictured here). Pair it with black ultra slim fit pants for a trim and tapered style. Aries features a black satin shawl lapel, double pockets and a fabric covered button. The classic color makes the Granite Aries the perfect choice for weddings and proms. Also available in Cobalt Blue, Black and Apple Red.
For a modern and updated look, choose our Grey Plaid Hamilton Suit. Tailored in soft, luxurious wool, its ultra slim fit styling made to fit all body types. Additionally, big and tall sizes look great in it. Customize your look with matching or black ultra slim fit trousers. Likewise, add a matching wool fullback vest for a 3-piece look. It is clean, classy and with a hint of pattern, also adds style without being distracting.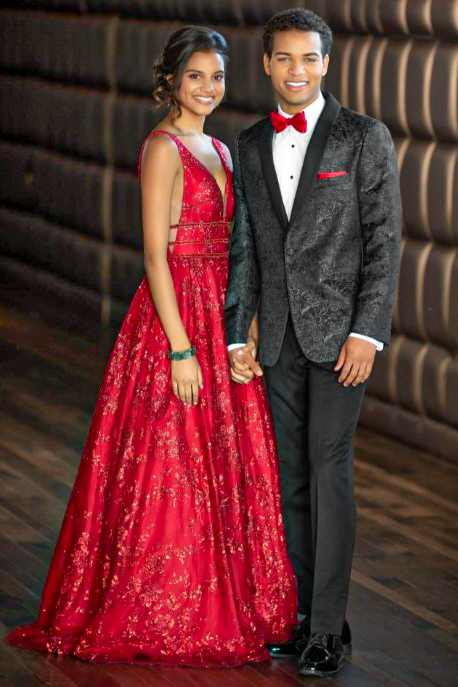 Look your absolute best at your next event by completing your look with a stylish tie or formal bow tie. As a matter of fact, whether you're planning to color coordinate with a date or make a bold statement, count on us. We have exactly what you're looking for. Furthermore, if you don't know what you're looking for, we can help you decide. Our experienced staff is here to help.
Our ties come in a variety of colors and styles from skinny ties to bow ties. Whatever look you desire, we have the color and style to match. 
SOLID BOW TIES
Customize your ensemble with stylish bow ties in a solid color. We have a range of hues to complement any event or theme. Coordinate with a vest or pair with a matching wool fullback vest.
SOLID WINDSOR TIES
Make a statement with a solid Windsor ties in a range of hues to complement any event or theme. This tie collection coordinates with the Expressions Fullback Vest collection.
PATTERNED TIES
Add dimension to your formal wear ensemble with a patterned or textured bow tie or Windsor tie. These vary from floral to herringbone and stripes. Our variety seems endless.
With your next event approaching, make sure to complete your look with a stylish formal vest. Pick up a standard black wedding vest to go with your black tux. Want to make a splash? Choose a colorful vest to match your date's ensemble. Don't forget to pair your tux vest with a matching tie, as well as other accessories. Again, Tankersley's has what you need. We are a one-stop-shop!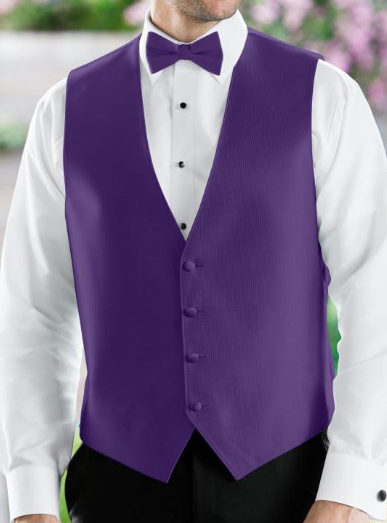 SOLID COLORS
Customize your tuxedo with a vest in a range of hues to match any event or theme. These vests are fully adjustable with a subtle herringbone or striped texture to create a small visual impact. Pair with a coordinating tie from our collection. Available in 42 colors including black, white, yellow, red, purple, turquoise, green, pink, yellow, orange, etc.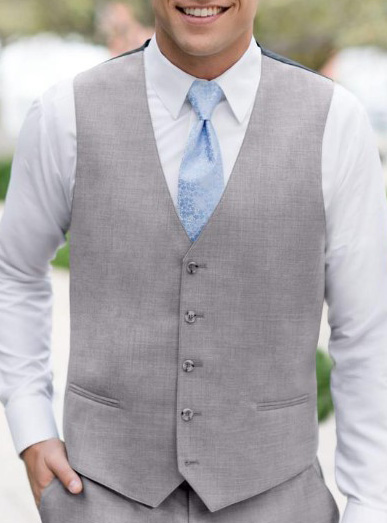 WOVEN
These stylish five-button vests are fully adjustable with a matching back. Darted pockets on the front give it a slimming appearance. Pair it with a colorful bowtie or windsor tie and our Heather Grey Clayton suit by Allure for a stylish three-piece look. Color options are neutral shades like heather grey, sand, navy, etc.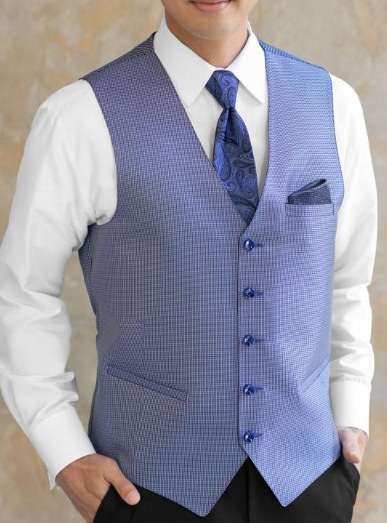 PATTERNED
Jazz up your tuxedo or suit with textures and patterned vests like the Michael Kors Foundation Vest. The subtle crosshatch pattern will add visual interest to your ensemble. Pair any of these vests with our slim fit suit for a classic three-piece look. Colors include heather grey, sand, wine, blue, navy and steel grey.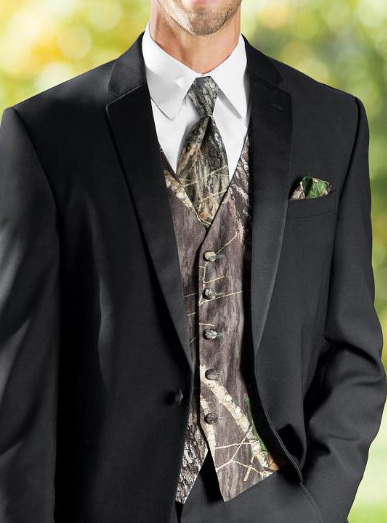 CAMO
Camo isn't always meant to blend in. This This five-button vest with a Mossy Oak new break-up camouflage pattern is fully adjustable with a black back. Pair with our camouflage tuxedo for a bold look or accent a classic tuxedo with a matching camo tie and pocket square. Additionally, colors include green Mossy Oak and White Mossy Oak pattern.